About

White Horse is about telling your story. You can expect adventurous ideas, courageous concepts, passionate production and a determination for excellence.
From concept to post production, we cultivate a high standard of creativity and have an excellent understanding of visual storytelling to deliver a high end and hassle free approach to all aspects of commercial film production. With a strong relationship focus and the undiscovered locations in this beautiful part of the world we are looking forward to making your next project come to life.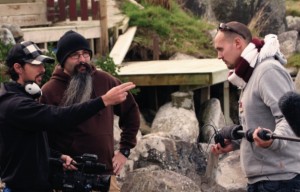 Darren Simmonds
Managing Director
Film and photography have been part of Darren's life for as long as he can remember. His father owned a photographic business and the Simmonds' household shared an interest in things visual. Since moving to Wanaka in 1996, Darren's interest in photography and film has been rekindled. He has produced and directed short film, television programmes and commercials –including Fishy Tales, which is a comic story of a Maori grandfather and grandson outwitting an overzealous fisheries officer – a snow-sports documentary, featuring Olympic gold medalist Kelly Clark and the Stud Tour for Country Channel 99.
Born and raised in South Africa, Darren has a Kiwi father and an Australian mother. He left home at 18, pursuing the great overseas adventure. Along the way, he qualified as a scuba diving and a ski instructor, as well as gaining numerous outdoor and mountaineering qualifications. Four years and 40 countries later, he had amassed a wealth of life experience and the ability to trouble-shoot in the most unpredictable of circumstances. He found himself in Queenstown – skiing by day and working as a magician by night – and it didn't take him long to discover Wanaka, over the hill, and he hasn't felt tempted to leave.
Soon after moving, he was employed as a researcher for a multi-national asset management company, with interests in agriculture. Darren stayed with the group for the following five years – progressing through sales, marketing and business development – before becoming responsible for the group's New Zealand operations. He was director of six companies within the group and oversaw general and financial management of one of New Zealand's largest privately-owned farming operations, including the purchase of about $40m of property over two years.
Darren's senior management experience has given him the skills necessary to manage large projects and significant budgets, and to facilitate the successful relationships and smooth logistics necessary to produce and direct high-end television commercials.
In his spare time, Darren can be found wakeboarding, skiing, snow kiting or playing soccer. At a community level, he is founder and chair of the Wanaka Film Trust and a Leader of the Wanaka Lighthouse Church.